ZIFA Northern Region Division One League yesterday broke new ground when information technology company Axis Solutions yesterday unveiled a US$20 000 eight-team knockout tournament.
The tournament was unveiled at a function in the capital yesterday just few days after the Sports and Recreation Commission (SRC) gave the greelight for all lower leagues football to resume.
The participating teams will be drawn at the halfway stage of the season from the top eight on the log standings.
The development is a huge endorsement to the Northern region leadership led by Martin Kweza as they continue to secure corporate partners for their league at a time many are reeling from the effects of Covid-19.

"This is a remarkable milestone in our life and journey as the Northern Region; coming at a period when we are about to resume our football following a very prolonged break occasioned by the Covid-19 containment and prevention efforts by the government," Kweza said.
"The sponsorship, which we are unveiling could not have come at a more opportune time and will go a very long way in adding tonic to our on-going recovery endeavours as we seek to reposition our teams and the entire footballing fraternity back to competitiveness.
"The gesture by Axis Solutions,… is one great show of confidence in the Northern Region by the corporate world. The sponsorship, will see the launch of an eight-team tournament, which we are convinced will go a very long way in motivating both our teams and individual players to become even more competitive.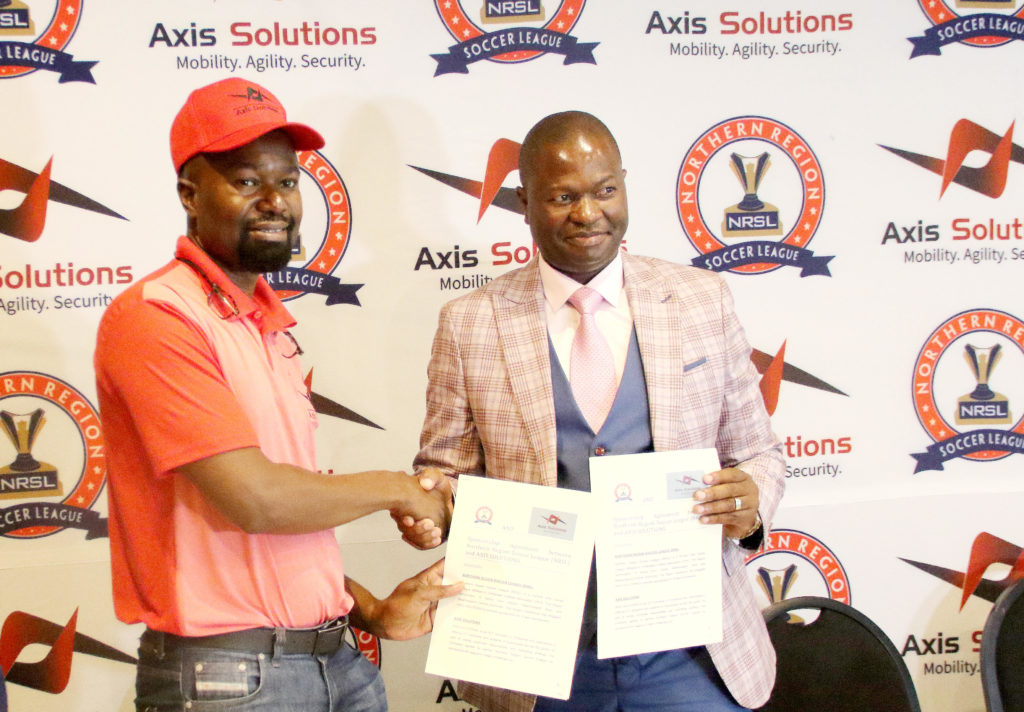 "The tournament will also help our teams and our players to recover some of the game time lost during the period when all sporting activities were at a standstill. As a Region, we are therefore highly indebted and grateful to Axis Solutions for this very important and kind gesture towards the development of football in our country.
"As we accept this sponsorship, we wish, as a Region, to assure our sponsors that all the resources they are investing in this sponsorship package, will all be put to good use. We greatly appreciate the effort and generosity from Axis Solutions and will do everything at our disposal and within our power to ensure that the generosity is not in vain. We will work tirelessly and see to it that our teams deliver the best game and the best value befitting the support of this magnitude."
There will be individual awards for top goal scorer of the tournament and goalkeeper of the tournament. The biggest individual award will go to the player of the tournament, followed by coach of the tournament.
Team awards will recognise the most disciplined team and obviously the inaugural tournament winners.
Axis Solutions chief executive officer Brian Kudzavhu they committed to contribute to the development of the sport in the country.