INDEPENDENT television channel, 3Ktv, will go live on both MultiChoice's DStv and digital terrestrial television (DTT) platforms this coming Monday.
The station will start live programming at 6am on February 28, and will be broadcasting 24 hours, seven days a week from its brand new studios in Harare.
On DStv, it will be available on Channel 293, and will be accessible to all bouquets offered by Africa's leading entertainment company — from Premium through to Lite.
Announcing the partnership with DStv yesterday, Pilate Machadu — the Group CEO of Jester Media Services, the parent company of 3Ktv — said the tie-up was crucial as it would see the station reaching hundreds of thousands of homes and businesses on day one.
On his part, MultiChoice Zimbabwe general manager, Norman Raisbeck, said the "exciting development" would further enhance the range of Zimbabwean-produced content available to its DStv customers.
"3Ktv aims to be the most followed and trusted television station in Zimbabwe, as per the rich tradition of its sister operations under the Jester Media Services umbrella.
"The channel will share compelling stories about our beautiful country as we leverage on this exciting partnership with MultiChoice.
"Our sincere gratitude goes to the government and the Broadcasting Authority of Zimbabwe (Baz) for opening up the airwaves further and running a credible bidding process for licences for commercial television stations in late 2020.
"Similarly, we are indebted to Transmedia for facilitating access to the DTT platform and MultiChoice Africa for partnering with us on satellite television," Machadu said.
"Our pledge to all Zimbabweans in the country and in the diaspora is that 3Ktv will make you proud through its riveting programming which will showcase the very best of our beautiful country, as the station's motto goes.
"Our audiences and their experiences will be at the centre of all our broadcasts, as we deliver distinctive content that is non-partisan," he added.
"As Africa's leading entertainment platform and most loved storyteller, we continuously seek opportunities to provide local and inspired content to Zimbabwean audiences.
"Our goal with 3Ktv is to enhance customers' viewing experience even more, and at great value," Raisbeck weighed in.
The channel's programming will include local drama, reality shows, news, sports and documentaries.
Some of 3Ktv's exciting content that viewers can look forward to includes:
● Tangled — A local telenovela about the not so perfect lives of two best friends. Their lives are unravelled to the point of murder when a boyfriend's overprotective mother threatens him to choose between career and love;
● I Can Act — A fascinating reality talent show for aspiring actors;
● Mawombera — A drama series involving a poor family in the rural areas. The wife, Sandra, is advised by the husband to pursue her education. Eventually she graduates, gets a better job in town and the husband is happy. Things turn sour when she starts neglecting the family;
● Zim's Best Barber — A reality game show in which 16 barbers compete for a whopping prize worth of start-up barbershop equipment;
● Zim Uncovered — A travelogue of Zimbabwe's cities, towns, growth points and suburbs, bringing out the historical backgrounds and cultures of the people who live there; and
● Bachi Committee — A talk show programme focusing on issues that affect men in today's society and their changing roles.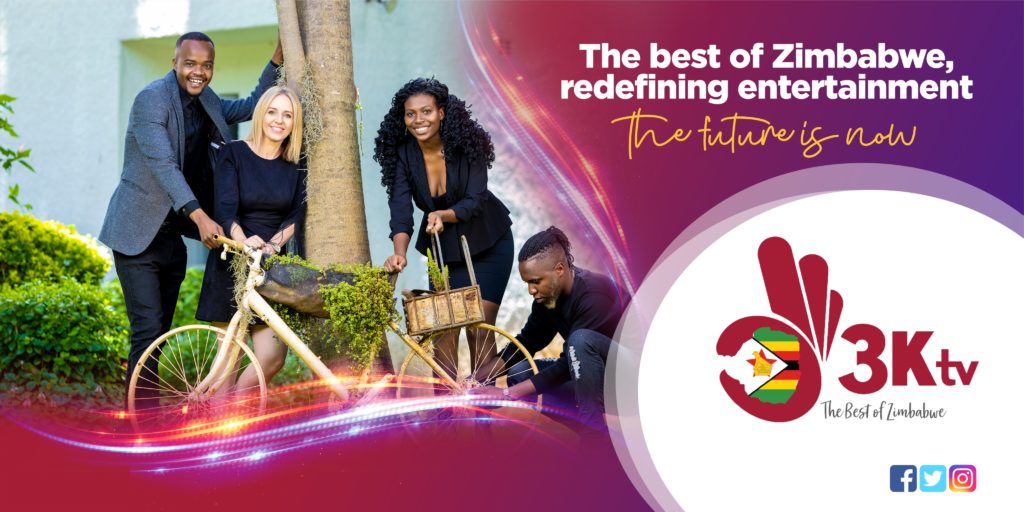 Meanwhile, about 300 select people from government, business, politics and civil society, will gather in Harare on Friday evening, to celebrate 3Ktv's launch.
The managing director of Jester Media Services' Broadcasting Division, Zweli Sibanda, said the colourful event would see the television station being formally introduced to the market, ahead of the channel going live on Monday.
"We are indeed heading down the home stretch to the station's much-anticipated commencement of live programming, which is now just days away.
"We are very proud that 3Ktv will be the first of the six stations which were licensed by authorities in November 2020 to take off.
"In the process, history will also be made as Zimbabweans will, for the first time in more than six decades, have a choice locally as to what to watch on their small screens," Sibanda said.
"Friday's invitation-only bash in Harare is part of our efforts to ensure that all key stakeholders, including our business partners and target audiences, are completely au fait with 3Ktv and its riveting programming.
"As the country's fastest growing, most inventive and arguably most influential media house, Jester Media Services is also once again demonstrating its confidence in the local economy through its significant investment in the new station.
"The launch of 3Ktv is also a testament to our group's enduring belief in the sustainability and importance of media in our society — coming as it does a few years after we added the country's iconic and number one business newspaper, The Financial Gazette, to our portfolio of assets," Sibanda added.
"The nation has been able to see first hand over the past decade how the country and its communities have benefited from these assets, including through the creation of significant jobs, skills development and contributions to the fiscus and crucial democratic discourses.
"We have no doubt whatsoever that 3Ktv will have a similar, if not bigger impact on the people of Zimbabwe — including through the provision of a creative outlet for many and helping to build a sense of national pride and identity through its programming, in line with our group's well-earned reputation for independence, balance and trustworthiness.
"In this regard, congratulations to everyone who has worked hard to make 3Ktv a reality, and a big thank you to all our business partners who have made this dream possible," Sibanda also said.
Speaking last month, 3Ktv general manager, Emmanuel Nyamayedenga revealed at the time that the station was "trialling" its equipment, systems and processes ahead of launch.
"We are on the home straight now in terms of our preparations and everyone involved is champing at the bit to go on air and become the television station of choice for Zimbabweans.
"There is an enormous appetite for excellent, independent and locally-produced television content in Zimbabwe and among Zimbabweans in the diaspora.
"With the tag line 'The Best of Zimbabwe', 3Ktv is well set to meet this hunger for riveting, 24/7television programming from day one," Nyamayedenga said.
"We will offer unmatchable content on and about Zimbabwe, including quality home grown entertainment, current affairs programmes and absorbing documentaries — all tailored to the rich history, cultural diversity and socio-economic circumstances of Zimbabweans.
"Indeed, our audiences and their experiences will be at the centre of all our broadcasts as we deliver innovative and distinctive content that is credible and non-partisan.
"In that regard, we will be showcasing the very best of Zimbabwe all round, with our content produced by Zimbabweans for Zimbabweans wherever they are," Nyamayedenga added.
All this follows the licensing by Baz of six new television stations in November 2020, including 3Ktv — following a rigorous, transparent and credible public vetting process —thereby ending six decades of monopoly by State broadcaster ZTV.
Buoyed by this overwhelming vote of confidence from Zimbabweans, Nyamayedenga said viewers were "in for a huge treat".
"We have also had very fruitful engagements with our business partners, to extend the excellent and mutually beneficial relationship that we have had with them in print and online to television," Nyamayedenga also said.
Jester Media Services has more than 30 years in the media industry, having started as a small publisher of magazines. It has grown significantly over the past 10 years to become a major multi-media corporation.