THE US has denied Russian claims it masterminded an alleged drone attack on the Kremlin on Wednesday aimed at assassinating President Vladimir Putin.
A day after accusing Ukraine of carrying out the alleged attack, Mr Putin's spokesman said it had been done with Washington's support.
US National Security spokesman John Kirby called it a "ludicrous claim".
Ukraine has said it had nothing to do with the alleged attack. Mr Putin was not in the building at the time.

Footage on social media showed smoke rising over the Kremlin – a large government complex in central Moscow – early on Wednesday. A second video showed a small explosion above the site's Senate building, while two men appear to clambered up the dome.
On Thursday, Kremlin spokesman Dmitry Peskov said the US was "undoubtedly" behind the alleged attack, without providing evidence.
"Decisions on such attacks are not made in Kyiv, but in Washington," Mr Peskov said.
In his response, Mr Kirby told US media: "Peskov is just lying there, pure and simple.
Watch: Steve Rosenberg on Russian media's muted response to the Kremlin explosion
"The United States has nothing to do with it. We don't even know exactly what happened here, but I can assure you the United States had no role in it whatsoever."
The US official said Washington did not encourage or enable Ukraine to strike outside its borders, and did not endorse attacks on individual leaders.
Ukraine has said that the alleged attack was a false flag operation by Moscow in order to justify escalating the war.
On the other hand, though, many argue that Russia would have little interest in staging an attack that made the Kremlin look vulnerable.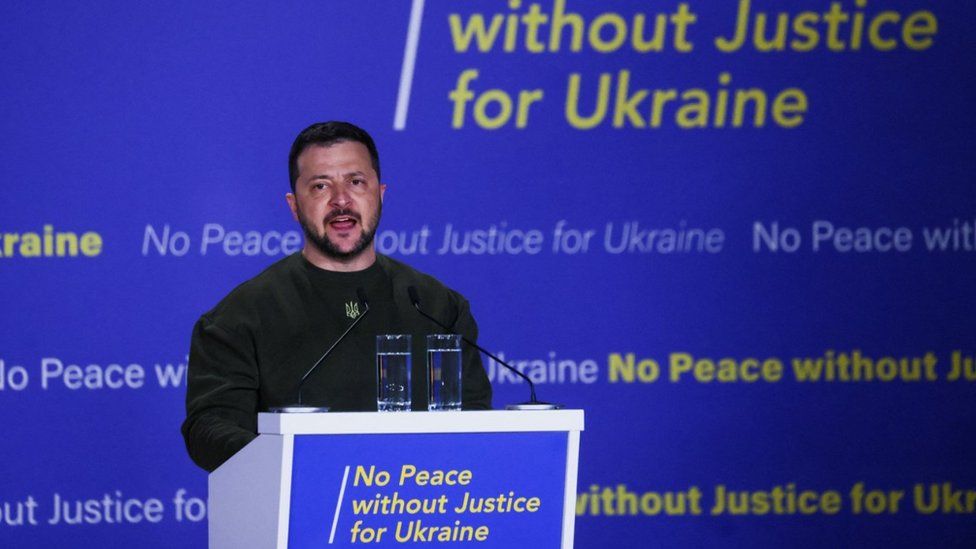 The latest Kremlin claims came as Ukrainian President Volodymyr Zelensky visited the International Criminal Court (ICC) in The Hague in the Netherlands.
In a speech afterwards, he called for the creation of a special tribunal to hold Russia's "crimes of aggression" to account.
He said Mr Putin "deserves to be sentenced for criminal actions in the capital of international law", the Ukrainian president said.
He listed alleged war crimes by Russia – including the "millions" of strikes in the Donbas region in eastern Ukraine and those killed during the occupation of Bucha, near the capital Kyiv, at the onset of the full-scale Russian invasion last year.
The ICC has issued an arrest warrant for President Putin for alleged war crimes in Ukraine. It says he is responsible for war crimes during the Ukraine war, which includes the unlawful deportation of children from Ukraine to Russia. But it has no mandate to prosecute the crime of aggression. – bbc.com