THE Zimbabwe Consumer Protection Commission (ZCPC) yesterday called for government intervention to ensure fair pricing of basic goods in the country.
This comes after the recent fresh hikes in fuel prices, which have had a ripple effect in the market.
It also comes after President Emmerson Mnangagwa blocked another planned increase in fuel prices at the weekend.
Speaking in Harare yesterday in commemoration of World Consumer Rights Day, ZCPC chairperson Mthokozisi Nkosi said there should be fair pricing to cushion consumers against unjustified price increases.
"We want fair pricing. When we are saying fair, we then want to compare how we are doing in the region.
"For example, the price of cement … if you go to Zambia, it's actually half what is being charged here.
"The question then becomes what is the problem. What is so special about our own product that it costs double what is happening next door," Nkosi said.
"This is where then the sector regulator will need to come in and do the analysis.
"Let's understand what is so special. What gets into our own particular product … because it's the consumer at the end of the day who should be enjoying what is happening in the country," he added.
Consumers at the celebrations also questioned why the government had allowed fuel prices to go up twice within five days, citing the Russia-Ukraine war as a reason for this.
In the meantime, Acting President Constantino Chiwenga said at the weekend that economic saboteurs were scuttling government efforts to stabilise prices in the country.
At the same time, Finance minister Mthuli Ncube is set to issue a ministerial statement in Parliament this week on the skyrocketing prices of goods and services.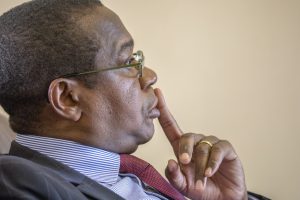 Speaking at a Zanu PF rally in Mutare at the weekend, the tough-talking Chiwenga — who is also the country's Health minister — said the government would fight economic saboteurs by coming up with stringent measures to ensure price stability.
"We have a lot in the developmental pipeline. We have programmes that are going to deal with the current unnecessary price increases.
"However, the rise of black market rates and the increase in prices in shops bothers us because it's being caused by saboteurs," he said.
"We are not going to watch the saboteurs destroy the economy. Action will be taken to deal with the malcontents," Chiwenga also warned.
All this also comes as authorities say they are doing everything in their power to further improve the lives of long-suffering Zimbabweans.
Speaking in an interview last Thursday with the recently launched independent television station, 3Ktv, Reserve Bank of Zimbabwe (RBZ) governor John Mangudya said the government considered the country's economic challenges a major priority.