ON average, tennis players retire at the age of 27. If one continues to play beyond that, they usually retire in their mid-thirties. But those who specialise in table tennis tend to do more years. Vikram Singh, five-time Zimbabwe National table tennis champion, and one of the finest table tennis players to emerge from the country is showing the way.
His passion for table tennis seems to have made him forget to hang up the boots.
"I don't want to retire anytime soon, l feel strong and I think that I still have a lot of energy in my tank and I am a force to reckon with in table tennis," Vikram calmly said as we sat down for an interview.
For the 46-year-old Vikram, collecting accolades for excellence in table tennis has become the norm.

"l have lost count of the number of titles and medals that l have won throughout my 34 years of playing table tennis."
Vikram is an award-winning table tennis player whose influence comes from years of practice.
"l do not recall a tournament that l have participated in and failed to take home silverware up to this present day," says Vikram.
Tennis is a sport where a professional career starts early.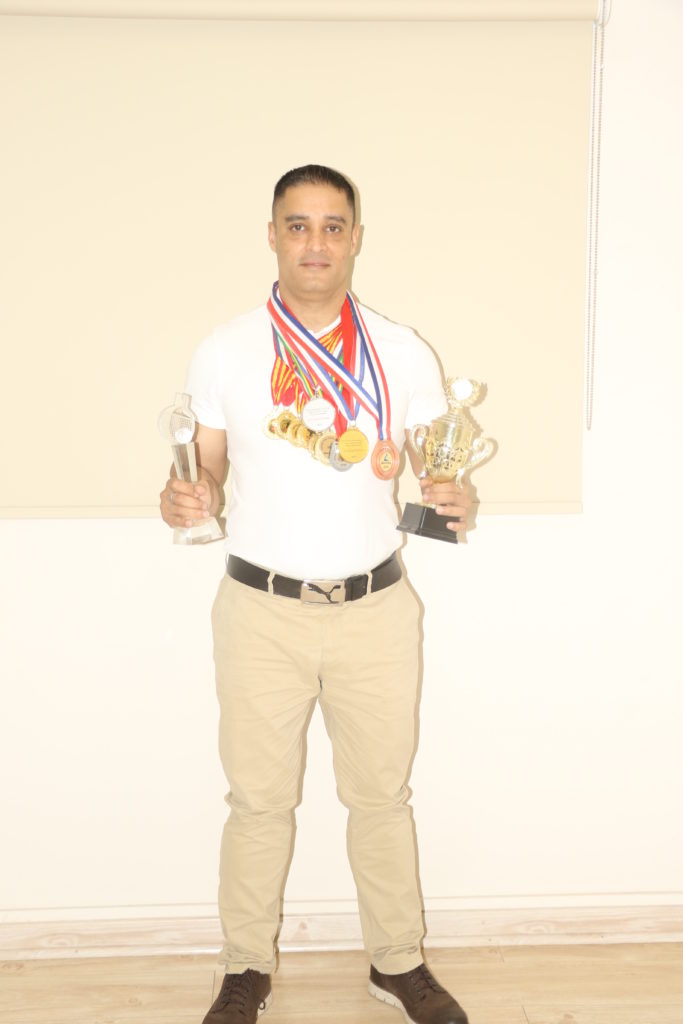 Born in 1975 in Harare, Vikram launched his professional table tennis career at the age of 12 at Churchill Boys High and by the age of 16, he was already playing for the under 18 and 21 national teams.
Since then he has had 34 years of an illustrious career in table tennis winning multiple national and international accolades in the process.
Despite his age, he has managed to continuously improve his playing skills enabling him to maintain his senior men's number one spot in the country.
Over the years, he has developed into a household name, and a role model for aspiring players.
He has won the praise of not only table tennis connoisseurs but his rival too.
"Vikram is one of the best table tennis players l have ever faced in my life. Playing him has become more of a tradition. When I'm preparing for a tournament l train very hard. The chances of playing him in every tournament final are high. He is the best," says Brian Chamboko, one of Vikram's greatest rivals.
For Zimbabwe Table Tennis Union president Noah Ferenando, Vikram's contribution to table tennis is unparalleled.
"Vikram is a hall of famer in table tennis. He has proven beyond reasonable doubt that he is the best. Vikram has collected more silverware than anyone I could remember and has contributed immensely to the table tennis profile of the country. Vikram's influence extends beyond Zimbabwe.
"He has led the team to several successful international missions that brought in several silverware for the country," said
Some of the titles he has won in his long career include the Zimbabwe National Table Tennis Championship in 2015, 2016, 2017, 2018 and 2021,
Manicaland Open 2015, East Open 2018, Manicaland Open 2018, Harare Open 2018, Zimbabwe Closed 2018 – Men's Singles Silver, Region 5 Games
2018 – Men's Team Event Bronze
Although he has managed to maintain his place at the top of the game, he says it has not been an easy journey.
"I have stood the test of time but with the passion and support l got from my family, fans, and some athletes I have managed to soldier on.
I'm now playing with athletes who are half my age and these juniors have continued to push me saying 'you can't retire now as you still
have a lot to impart to us,'" he said.
Vikram believes the younger generation has the potential to do better in the future but lack of financial support has hindered the
development of the sport in the country.
"We still have a lot to do in terms of developing the sport at the grassroots level. At the moment the sport is being played in schools,
tables are constantly moved and it becomes difficult to maintain them as they wear and tear. We also do not have a permanent venue where
people can train and practice."
Again, poor earnings from the sport discourage some of the youth from taking part in table tennis.
"Sport is not as rewarding as it should be for most African countries. As a result, it is not a priority for a lot of people who usually
spend time hustling to earn a living. Due to poor earnings we are losing a lot of raw and good players," he said.
Apart from his own passion for the sport, Sigh says his greatest rival Chamboko has helped him get to where he is.
"l have lost count of how many finals l have played Brian Chamboko. He has been good and has consistently challenged me to work hard.
"With Chamboko we play a unique game. He is not ordinary and easy to predict," he said.
After finishing the 2021 season with a gold medal in the Zimbabwe Open Table Tennis Championships, Vikram aims to participate in more
international matches. He has set his sights on this year's Table Tennis 2022 World Cup to be held in South Africa.
"Going forward I need to participate in more international games to improve on my game.
"You only excel when you have the hunger to excel and be humble. Once you think that you know everything you're doomed to fail because you
end up not listening to anyone or trying to improve yourself," he added.
His survival in the game is attributed to several factors.
"l still feel like a novice, every time l go for a tournament, whether I'm playing with Chamboko or even a junior player, l always try and
learn. Age is not a barrier, age is just a number if one is determined and focused to reach their full potential."
He adds: "Sport is not always about winning the match or a game but also learning. l still want to improve my play in preparation for
international an appearance," he said
by
Cloud Fusire
SPORTSWRITER